The touch screen and bright graphics of the Nintendo DS make it the perfect console for a wide range of addictive DS puzzle games

If the Soduku craze has proved anything, it's that lots of people love puzzles. The puzzle game genre encompasses a huge number of games from those that have you scratching your head to those that test your reflexes and your ability to think quickly. Because many puzzle games rely on bright, 2D graphics and intuitive controls, the DS is blessed with a huge number of great titles that are sure to keep the whole family occupied.

In this round up, we'll take a look at some of the more popular DS puzzle games, as well as a couple of hidden gems. The titles we'll be scratching our heads over are:-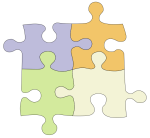 Forget jigsaws, electronic puzzle games are here to stay!

Jewel Quest Expeditions - The classic jewel swapping formula comes to the DS in the form of Jewel Quest Expeditions. Can you puzzle your way through 180 boards of jewel matching madness to unlock the secrets of the Jewel Boards? More importantly, would you want to? Find out in our review.
*NEW* Peggle Dual Shot - The classic game of luck and skill bounces from the PC onto the DS. Can Peggle Dual Shot captivate DS owners the same way Peggle did to millions of PC gamers? Find out in our review.
Puyo Pop Fever - The colourful and lively Puyo Pop puzzle game comes to the DS courtesy of Sega with Poyo Pop Fever. Will you be feverishly excited or sick as a dog if you play it? Find out in our review.
Tetris DS - The classic block matching puzzle game arrives on the Nintendo DS with new gameplay modes and super multi-player features. Is the decades old formula still fresh and challenging to modern gamers? Find out in our review.
Zoo Keeper - Working as a zoo keeper is nothing like what you see on TV, in actual fact it involves matching lines of animals and making them disappear against the clock. Find out if this accurate simulation of the zoo keeping profession is up to scratch by reading our review, coming soon.
No matter what kind of puzzle game gets your mind into gear, the DS is ready to entertain. Keep reading Lets-Play-DS.com and we'll make it easy to work out which games are right for you.




Back From DS Puzzle Games to Home Page