Imagine Fashion Designer on the DS puts you in charge of your own design studio! Will it be glitz and glamour or tantrums and tiaras? Find out in our review
Think of the world of fashion these days and you may well think of ultra-thin models and their bad-boy rock star boyfriends making the headlines, not for the clothes they wear but for their outlandish behaviour. Fortunately, there are no illegal substances or prying paparazzi in Imagine Fashion Designer, the new game all about the world of fashion on the Nintendo DS.
Imagine Fashion Designer puts the player in charge of a fancy fashion agency. From the main menu, you can dive right into your office, where you can collect contracts from clients, or you can practice in any of the workshops you have unlocked. The main game is played out from your office, where you'll be given a list of tasks to perform to satisfy the clients needs. The tasks range from simple clothes design to making up a model for a cover-shoot and throwing your very own fashion show. Each task requires you to pick a model (from a list of four) and use one or more of the workshops. It is in these workshops where you get creative.
In the hairdressing workshop you can choose from a range of hair styles and colours. It's a shame you can't chop away at your models hair yourself, but you can have plenty of fun giving your models bright pink hair.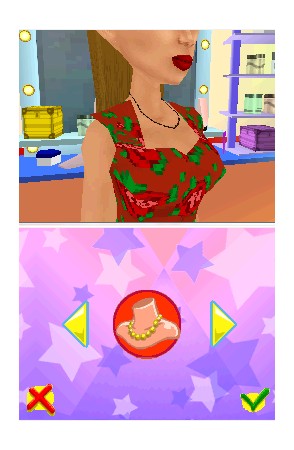 The jewellery workshop is more fun. Here you can create necklaces from various shapes and colours that are offered to you by the game. There's plenty of different combinations to try and anything you create is saved to your fashion collection.
The fashion design workshop is where you actually design clothes. You start from a basic pattern for various tops, t-shirts, skirts, jackets and trousers (or pants if you're American). From the basic pattern you can trim and change the length of the clothing by swiping across with your stylus. In practice this seemed a lot more fiddly than it needed to be. Although the lines where you can cut are clearly marked, rubbing the stylus across them doesn't always seem to trim off the section of clothing that you want it to. A shame because the design workshop is quite good fun to use otherwise and designing clothes is a vital part of playing Imagine Fashion Designer. Once you are done chopping and changing, you can apply patterns and colours and then save to your collection.
In the dressing workshop you can take any of your models and dress them up in the clothes you have designed or unlocked by playing the main game. Clothes are categorized well and browsing through your vast fashion collection with the stylus is a breeze.
In the beauty workshop you can apply make-up to your model. We're reliably informed that this is something little girls enjoy doing a great deal and we would have liked to see a little more flexibility in what you could do here. Although you can change lipstick colours and eye shadow colours and choose from a range of blushers and face paints, the game stops short of letting you apply make-up directly with your stylus, which seems like a bit of a missed opportunity.
Next up is the photo workshop which, as you may have guessed, lets you take photos of your models in any of your clothes or make-up designs. You can pick out a background and choose from different types of lens (wide lenses for whole body shots, smaller lenses for portraits). Occasionally I failed a photo task for not getting the whole model in shot, when I was sure I did, but these were the exceptions rather than the rule and on the whole the photography section works well.


Imagine Fashion Designer Review Page 2 >>

Back from Imagine Fashion Designer to Imagine Games

Back to Home Page