Race Driver GRID is a racing simulator for the Nintendo DS. Can it bring the excitement and realism of big-screen console racing simulators to the small screens of the DS?

Race Driver GRID (or simply GRID in the USA) attempts to fill a niche in the DS library by bringing a 'serious' racing simulator to the tiny handheld. Ever since Gran Turismo roared onto the original Playstation, a whole host of advanced racing simulators have popped up, eager to win over motorsport fans who want to recreate their boyhood racing fantasies. Detailed racing simulators tax the most powerful next generation consoles. Can Firebrand games produce something for the DS that captures the excitement of realistic motor racing?

Loading the cartridge up, after a short video intro, it's time to plunge into the game proper. In Race Driver mode, the aim is to complete events from three different geographical zones; Europe, Japan and the United States. Each zone has events and cars unique to that region. So in Europe you'll be racing nimble sports cars, in Japan you'll be drifting around mountain passes and carparks and in America you'll be driving muscle cars.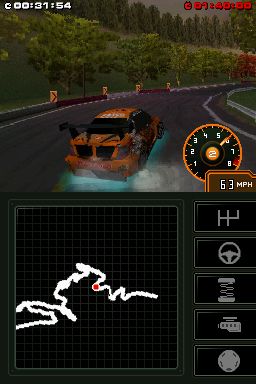 Time trials on mountain passes can be tricky, but plenty of fun
Typically, the first event players will try will be a race. Before the event starts you can change paint liveries for your particular car. During the racing, the touch screen shows a map of the circuit and your cars damage indicators. The top screen shows the action on track. There's no silly stylus steering this time, for which we are thankful.
While Race Driver: GRID is a more realistic simulation than Ridge Racer, for example, the handling is still quite forgiving. You certainly won't be able to get around most circuits without slowing down and breaking for corners, but you won't be sliding off the course every five minutes like on some realistic racing sims. The handling is somewhere between arcade style drift handling and more realistic simulation handling. It strikes a good balance between simulation and fun and is easy to control using the consoles d-pad.
Typical of more grown up driving simulators is the games damage system. Run into a wall or trackside obstacle and your car will take damage. Keep doing it and your car will eventually break down or become un-driveable. The cars can take way more punishment than in real life, so there's still scope for some dodgem style tactics, but give them too much punishment and expect to have to restart the race.
There's more to the career mode than just racing, however. You can take part in mountainside time trials and drift challenges through city streets. There are also average time challenges and "survivor" which puts you in a slower car and tasks you to stay ahead of your rival for as long as possible. There are even events which require you to design race tracks, with the in-built track editor, but more on that later. From fully licensed real-life race tracks to street circuits and car-parks the amount of variety is fantastic, rarely are you left without an interesting challenge to tackle. Completing events unlocks medals and reputation points, with more reputation points you slowly work your way up the rankings. Completing events also unlocks new cars and car upgrades which can help you win trickier events.
The variety of cars in Race Driver GRID is great too, from European power-houses like the Aston Martin DB9 to classic street drifters like the Toyota Sprinter Trueno AE86, it's a petrol-heads dream. From your home base you can tune your cars with the upgrades you have won and even design your own paint jobs.
Review Page 2 >>

Back from Race Driver GRID DS Review to Racing Games





Back to Home Page